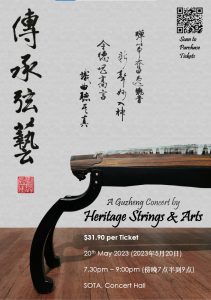 Heritage Strings & Arts will be having our inaugural guzheng concert on 20th May 2023 @ 7:30pm.
Performers include professional guzheng graduates from renowned conservatories of music in China as well as award winners of multiple international guzheng competitions.
Students of music will be able to benefit from this experience as they will be able to see the different techniques used to perform different scores on a professional level.
Tickets are on sale at
https://ticketmaster.sg/activity/detail/23_guzheng
传承弦艺将在今年5月20日(傍晚7点半)在SOTA首次举办一场古筝演奏会!!我们专业级的演奏家不但有从中国顶尖的音乐学院的毕业专科生,他们也各个也是新/马/中古筝比赛中的得奖者!!请勿错过他们精湛的表演!
票费仅有 SGD31.90!
请到以下链接购买 https://ticketmaster.sg/activity/detail/23_guzheng